Recently I purchased a Samsung Chromebook, joining the over 21% of laptop segment purchasers in 2013 who have done so. What is it that would cause a self-professed Apple fan boy to go out on a limb and get one of these devices? Let me share five reasons with you, and some quick observations of my experience with the device to date.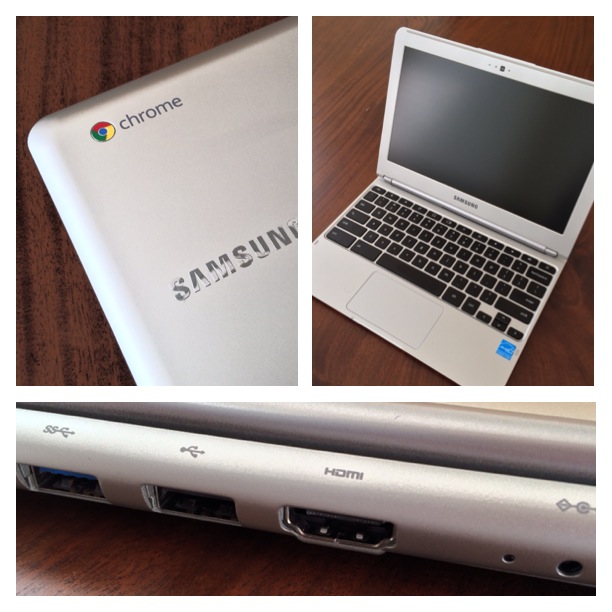 What, then, are the points that attracted me to pick up the Samsung XE303C12-A01US and add it into my computing mix?
Size. This device is a great size for travel or a day on the road stopping in at a coffee shop. With a screen of 11.6″ and overall dimensions of 0.69 thick x 8.09 wide x 14.4 long this computer is almost as svelte as my other object of lust the 11″ MacBook Air. I use a 15″ MacBook Pro as my day-to-day computer, but having traveled with it a few times I started looking​ ​longingly at fellow travelers as they sat at Starbucks with a smaller lighter computer. The Chromebook is an interesting alternative if small is what you are after in a computer.
Weight. Much the same as the size argument, weight is always a significant consideration for me. With the Samsung coming in at just 2.4 lb vs the 15″ MacBook at 4.46 lb, I know that packing it will not be an issue in the future, at least with weight. It is the same weight as the 11″ MacBook Air for goodness sake.
Battery life. Advertised at 5+ hours, I have yet to fully test this claim, but so far it seems to hold up. This is one area where the larger MacBook Pro has the Chromebook beat at over 7 hours. Still, over five hours is nothing to sneeze at.
Google Apps. Here is where the biggest stumbling block is going to be for most reading this. You are tied to the Google ecosystem. Really tied. More tied than Apple ever considered tying its users. If you use Google Apps for Business to manage your corporate email, calendar and contacts as we do at my businesses then this little computer is a great choice, perhaps even as a primary laptop. You log on using your regular Gmail email and password and all your Chrome browser and email settings immediately pop up on your computer. However, other programmes you may be looking for, such as the Microsoft Office suite, are not available. Oddly, even everyday programmes like Skype are not available. Instead Google pushes users towards its Google Voice or Google Hangouts products. this may change in the future, but if these programmes are critical to you then the Chromebook may not be a good option.
Cost. This may be the best feature. At $249 USD it costs less than an iPad and around the same as a Kindle Fire HDX. It's a price point that makes this computer an easy choice for the work that we do the bulk of the time. Email, web browsing, cloud based applications are all perfectly suited to this device.